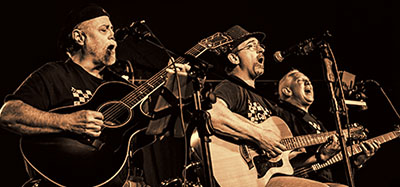 Call Us A Cab prides itself on catering to the wishes of those who hire us. If you want us to play softly during cocktail hour and dinner, you won't have to mention it twice. Want us to do the announcments for you? It will be our pleasure. Want us to wear suits, just let us know prior to the gig. Should we be given the opportunity to perform for your guests/patrons, we believe everyone will enjoy our performance as well. Schedule Call Us A Cab for your event today by calling 303-741-0940.
"We had a great block party and truly enjoyed Call us a Cab." They showed up well in advance to get set up and were all ready to go when the party started. They played a fun variety of songs and were super pleasant to chat with before during and after. We really appreciate and highly recommend them! - Jennifer H
"Loved them! We hired Call Us A Cab for our neighborhood summer kick off cookout. They were great communicators in advance of the event, on time, and flexible. Better than that? Their music! Loved the set list that spanned many decades with appeal for all ages. And the trio of guitars and vocals provides the perfect sound to be the back drop to your event or the main focus. Loved them and would hire them again in a heartbeat." -Mindy H, Southmoor Park Homeowners Assn.
"Great group! Our guests really enjoyed their choice of songs. We hope to work with them again next year!" -Sarah S, South Bowmar Homeowners Assn.
"It was a great day for us! Thanks so much for playing at our wedding reception. We've had lots of people comment on how good, and fitting, the band was." -Jerry & Donna W, Colorado Springs, CO
"These guys were amazing! The hit of the party! I had so many guests tell me how impressed they were with Call Us A Cab and ask how I found them. They are reasonably priced, extremely talented, reliable and prompt and super friendly! Everyone loved them. Plus, they read the crowd well played everyone's favorites and had people up and dancing. Their covers are phenomenal, I really just can't say enough good things about this band! So glad I booked them and will do it again as well as recommend them to anyone looking for a band!" -Kelly M, Denver CO
"Excellent band! No hitches, they set up early and played right to the end. Attendees commented on how much they liked the band. The band was receptive to requests to change the volume, and for special requests. I guess the best thing was that the band related to the group, and vice-versa. Hire 'em!" -Vincent H, Longmont, CO
"Mike Braun was very professional and accomodating. He communicated regularly with me and answered any questions I had. This was my first time booking talent for an event and he made the experience very pleasant." -Christopher C, Denver, CO
"We are so happy with the quality of entertainment we received when we hired Call Us A Cab! From day one, when we first inquired about availability and pricing, Mike from the band was responsive and flexible. We had a pretty non-traditional wedding and these guys listened to exactly what we wanted in a band. They were low maintenance, they showed up on time and setup without assistance. Our guests loved their vibe and loved dancing to their music. I'm so happy we found Call Us A Cab. They made our wedding a huge success and I'd definitely rely on them to play again in the future."
- Caitlin M, Evergreen CO
Mike Braun and Call Us a Cab were professional, easy to work with and very flexible and responsive to the Family celebration including children we hosted. I wouldn't hesitate to use them again and recommend them without reservation.
- Carol G. Denver, CO
Amazingly talented group. I enjoy them tremendously and always try to go where they are. Highly recommend them.
-Peggy W.
Awesome band! They were the hit of our client party. They made me look like a hero for hiring them. Everyone had a great time. This band rocks!
-Jeremy G.